There have been numerous people asking me one single question:
Why is it that most of my paintings are related to Lord Balaji of Tirupati?
The answer is simple, yet powerful. For me, I feel the Lord's presence in every breath of my life. Everything I do in life, every path I am assigned to tread, I take it as Lord's will. And so when I take the brush, when I blend colors, when I begin the strokes, the Lord's presence guides me.
For me, each painting is unique and distinctive as they are born from a heart filled with sincere devotion. With each stroke, my heart tells me that the Lord is smiling with satisfaction. I know for sure as I receive strong cosmic vibes. There is constant guidance regarding every stroke I make- the choice of colors, the creation of 'alankarams' and the general ambiance of each work of art. The paintings are not just sponged and dabbed with hues randomly. They are made uniquely for people, who have a deep devoted yearning to enjoy the bliss of his presence with them. From my own experience and those who have bought them- having the painting of Lord fills their lives with perennial bliss. There is an all round prosperity with homes and heart filled with health, wealth and contentment.
Each painting that is created is breathed life on well treated canvas boards using imported oil paints. This ensures that the work lasts a life time. The principles of austerity maintained in Hindu Dharma are fastidiously followed while I undertake each venture. This includes observance of fasting, adhering to auspicious timings while commencing and ending each painting. With all the attention and love invested, a painting takes 3-6 weeks for completion. I would love to make a special mention about the alankaras: they are not just a figment of my fancy or some replication of any day to day adornment randomly found. Much of painstaking research is invested into them, even the minutest details. And then, they are carefully incorporated into the painting. I would confidently say that these rich and elaborate paintings of the Lord are possibly the best representations of the deity at Thirupati. A human life who beholds them with devotion feels the mighty presence of the Lord himself.
And where does Jayshree, the artist stand?
I am committed to spreading word about the Lord's bountiful blessings that have taken me through the various alleys of life. For me, Lord has constantly guided me through various paths, moulding me at every step: material, emotional, and spiritual. In fact painting Lord is part of the spiritual saga he initiated me into
What is the price range of the painting?
These rich and elaborate paintings of Lord Balaji are possibly the best representations of the deity at Tirupati which are available for sale from Rs.1,00,000 and upwards depending on the alankarams, size and other detailing factors that go into it.
More details on Alankaram, Sizes and prices: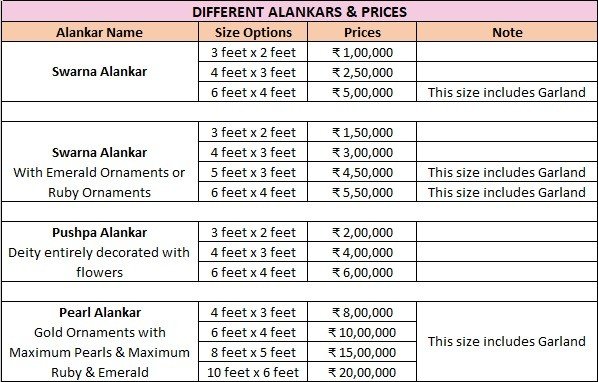 RAJA ALANKARAM':
Apart from the above Alankars, I can also undertake a 'Very Special custom order' with the lord being in the size of 8 feet (as in Thirumala) & the overall painting size being 11 feet. The lord will be decorated with 'Raja Alankaram'
More details about the Raja Alankaram Painting is:
The deity will be decorated with ornaments with references taken from the elaborate range of ornaments used on him in the temple for his Alankaram.
The ornament will carry even minute detailing in it bringing out maximum result when referred with the original jewel, starting from crown till anklet.
The ornaments will be completely studded with Precious & Semi Precious stones (emeralds, Ruby, diamonds etc, in places required) very carefully studded at places necessary with immense care taken to stay sturdy.
Lord Sri Devi & Boo Devi in the chest of the Lord will be made of 22 carat gold (10 grams each)
This painting does not bear the any techniques used in Tanjore art..
The painting will contain intricate detailing on the Vastram (silk dhoti) worn by the deity.
The flowers and garlands will be created with immense care giving petals maximum 3dimention.
For price details on the ' Raja Alankaram' kindly contact me over phone
With every stroke of my painting I feel the Lord's guidance; hence the painting will portray his presence, just like how the devotee feels at Tirupati. The idea behind creating such a painting is every person who owns this painting should feel Lord at Tirupati at their home.
How do we contact you for any of the above painting?
I am reachable at: jayshree@jj-studios.in
SWARNA ALANKAR WITH RUBY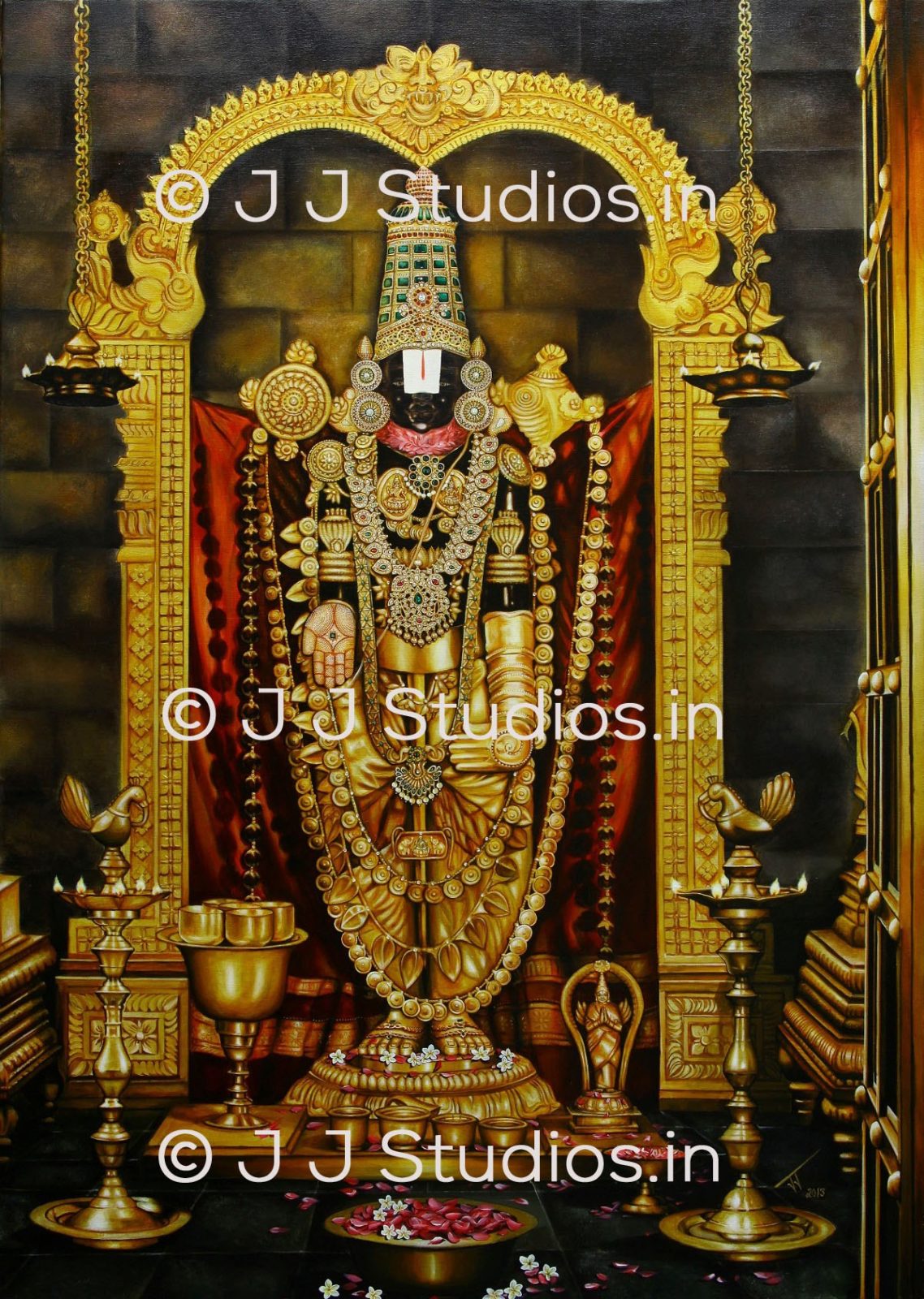 SWARNA ALANKAR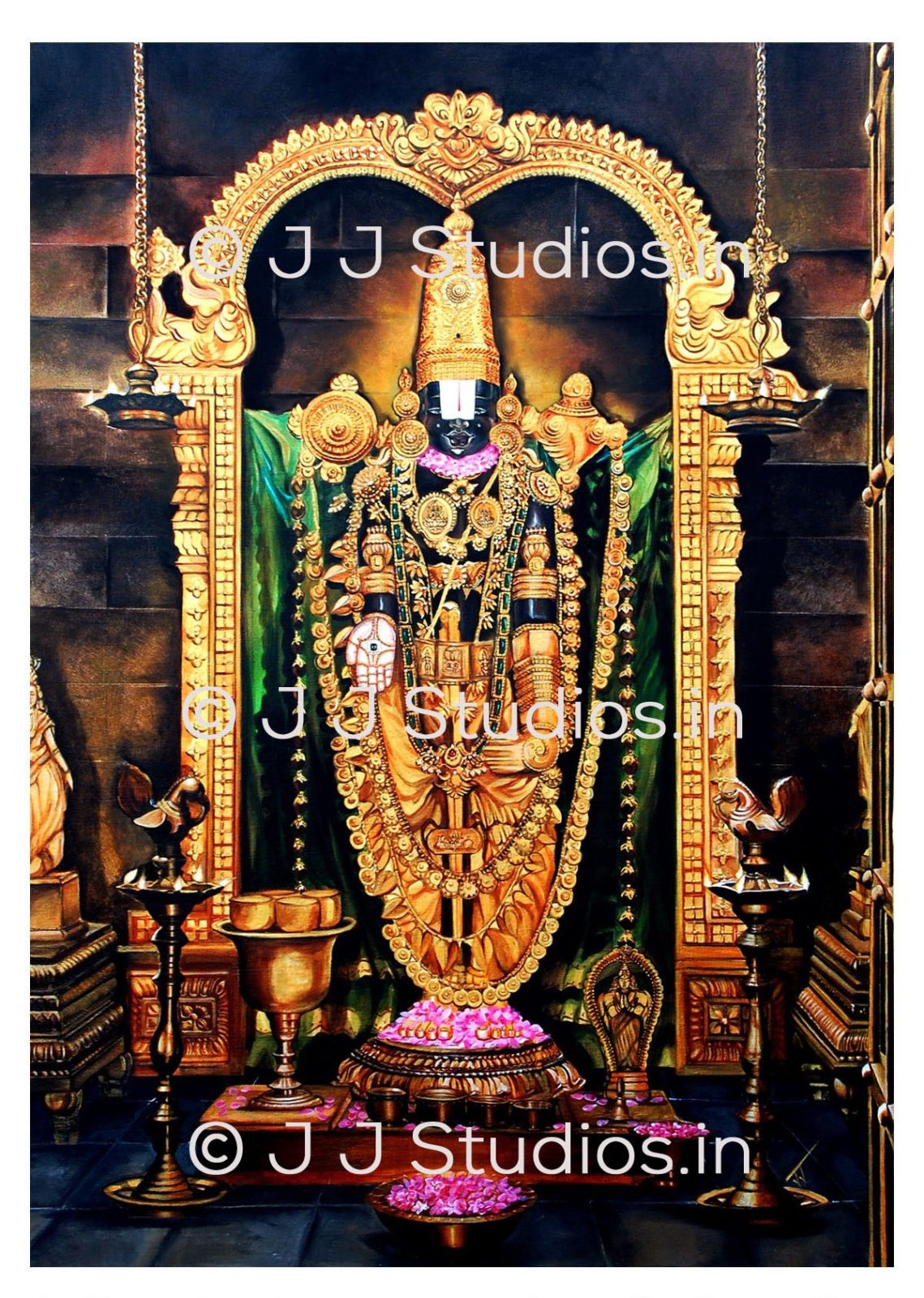 RUBY ALANKAR